Back to Main Gardening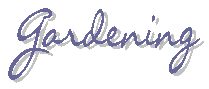 FUNdamentals of Organic Gardening (FNPS News, Jan., 2000)
By Mary Ann McClellan
On a bright, sunny August morning, the fields still wet from the night's dew and the birds singing in the woods surrounding me, Joanna Miller and I headed off to Baton Rouge for a fun workshop. The Friends of LSU Hilltop Arboretum sponsored a talk and tour at the Burden Research Center.  Dr. Owusu Bandele, Plant Scientist and Certified Organic Farmer; Dr. Carl Motsenbocker, Horticulturist; and Chris Campany, organizer of activities and market garden "enthusiast," were our hosts.
You might ask, what does organic gardening have to do with native plants. Since all things in nature are connected, the answer is just about everything. The most critical element in all things that grow is SOIL!! If you do not have a healthy and well balanced soil, you have poor results, no matter what you are trying to grow.
A definition of organic production is the enrichment of a garden soil with naturally occurring plant foods and the control of garden pests (insects, diseases, weeds) by environmentally safe methods.
THIS MEANS NO CHEMICALS in the garden...
Organic foods are produced under a system of ecological soil management which relies on building humus levels through crop rotations, recycling organic wastes and applying balanced mineral amendments.
Considering our particular soil challenges here in the south, site selection for organic gardens is an important component. Full sunlight and good drainage are necessary for success. You should begin with a manageable size and properly prepare your seed beds with raised or square foot gardens.
Composting plays a major role in any attempt to begin organic gardening, even on a small scale. The advantages of composting are:
Providing nutrients and trace minerals

Reducing the volume of wastes

Eliminating odors

Innumerable environmental advantages
Composting materials include leaves, grass clippings, crop residue, kitchen scraps, straw, pine needles and manures. Adding herbs to your compost to enhance it is a common practice in biodynamic gardening practices.
Yarrow and Comfrey leaves are just two plants that help greatly. These herbs bear naturally concentrated forces within them and are used to "organize" the chaotic elements within the compost pile. When the process is complete, the resulting soil created becomes "medicine" for the Earth.
We found that organic gardening is not just about eliminating the use of synthetic fertilizers and pesticides from the garden. The workshop took a more holistic view of the garden as a system, focusing on the inter relationships between the health of the soil, plants and one's personal health.
Since we gain our physical strength from the process of breaking down the food we eat, it makes sense that the more vital our food is, the more it stimulates our own health and activity.
The garden is also a teacher, and does provide the educational opportunity to imitate nature's wise self-sufficiency within a limited area.
If you have been dismayed in recent times by the lack of flavor and nutrition in commercially available produce, then you do have an alternative by beginning a small-scale garden of organically grown food. It is not as challenging as you may think. There is a lot of help in our area.
You can get information from the SU/LSU AgCenter Extension and Research Center. Help is available on the internet and from ATTRA - 1-800-346-9140.
A few pertinent publications on the subject are:
The Soul of Soil by Gershuny and Smillie

The New Organic Grower by Elliott Coleman

Flower Farmer by Lynn Byszynski
There is also a Baton Rouge group known as BREADA . Their mission is to build community, promote sustainable economic development and protect the environment through the creation of a local and just agricultural economy which fosters stewardship of land and community. This workshop was cosponsored by them.  For more information call HILLTOP at 225-767-6916 or email them at hilltop@lsu.edu .
After a delicious lunch consisting of all organically grown foods, we caravanned to three nearby gardens where we had an opportunity for questions and answers while experiencing several garden patches.
Happy gardening to all.

For additional information about Composting check out the following sites. There are also commercial composting bin sites that provide good basic information. You don't have to buy a bin to have great compost.